PUMPKIN SOUP

Ingredients

900g [2 lb] pumpkin
25g [1 oz] margerine
1 medium onion
1 vegetable stock cube
ground nutmeg
ground black pepper
paprika
100ml [4 fl oz] thick single cream

Method

Hollow out a medium sized pumpkin, discard the seeds.

Melt the margerine in a large cooking pot, and gently fry the onion for a few minutes, until soft.

Slice the pumpkin and add to the cooked onion, and stir. Make up the vegetable stock cube with 500ml of boiling water, [almost a pint], and add to the pot. Bring back to the boil and then cover and simmer on a low light for approx 30 minutes.

Pour into a blender and blend until soft, [alternatively, push through a sieve], return to the pot and heat gently, adding a couple of pinches of ground nutmeg, paprika and ground black pepper, do not boil.

Add the cream, stir, and serve!!

While you are waiting for the soup to cook in the 30 minutes why not carve a spooky face into the now hollowed-out pumpkin!!!!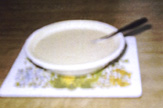 SKULL CAKE

Ingredients

1 lb [450g] digestive biscuits
8 oz [200g] butter
2 dessertspoons cocoa
2 tablespoons golden syrup
2 tablespoons sugar

Icing - 8 oz [200g] icing sugar

Method

Dissolve the butter, sugar, golden syrup and cocoa in a saucepan until just warm.

Crush the digestive biscuits well in a mixing bowl using the end of a wooden rolling pin. Add the liquid to this and mix well.

Now shape the mixture into the skull. Do this on to greaseproof paper on which you have drawn the outline of the skull. Make indentations for the eyes, nose and mouth.

Allow the cake to harden off in the fridge for a few hours.

To ice the cake.

Mix a little water with about 4 oz [100g] if icing sugar, keeping the mixture as stiff as possible.

Ice the skull, avoiding the eyes, nose and mouth. When the icing has hardened apply a second coat, using the remaining 100g of sugar mixture.

Allow the cake to set completely in the fridge. Then remove it from the greaseproof paper and transfer it to a square cake board which has been covered with a black plastic bin-liner.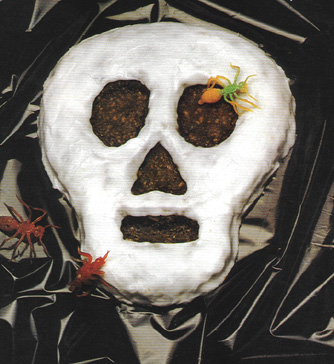 ... And not forgetting a good old witches brew for the adults to enjoy...
MULLED WINE

Ingredients

300ml water
100g sugar
4 cloves
5cm cinnamon stick
2 lemons - thinly sliced
75cl bottle of red wine

orange or lemon slices to garnish

Method

Place the water, sugar and spices into a large saucepan and bring to the boil.

Add the lemon, stir and leave to stand for 10 minutes.

Pour in the red wine and heat gently but do not boil.

Strain to remove spices and lemon. Serve hot with a slice of fresh fruit to garnish.